Actividades Culturales / Cultural Activities
¿Quieres ser el primero en enterarte de las actividades culturales relacionadas a Chile? Suscríbete a nuestro Boletín Cultural Mensual

 

aquí.
Want to learn more about cultural activities involving Chile? Sign up to our Monthly Cultural Newsletter

 

here. 
2021
OCTUBRE/ OCTOBER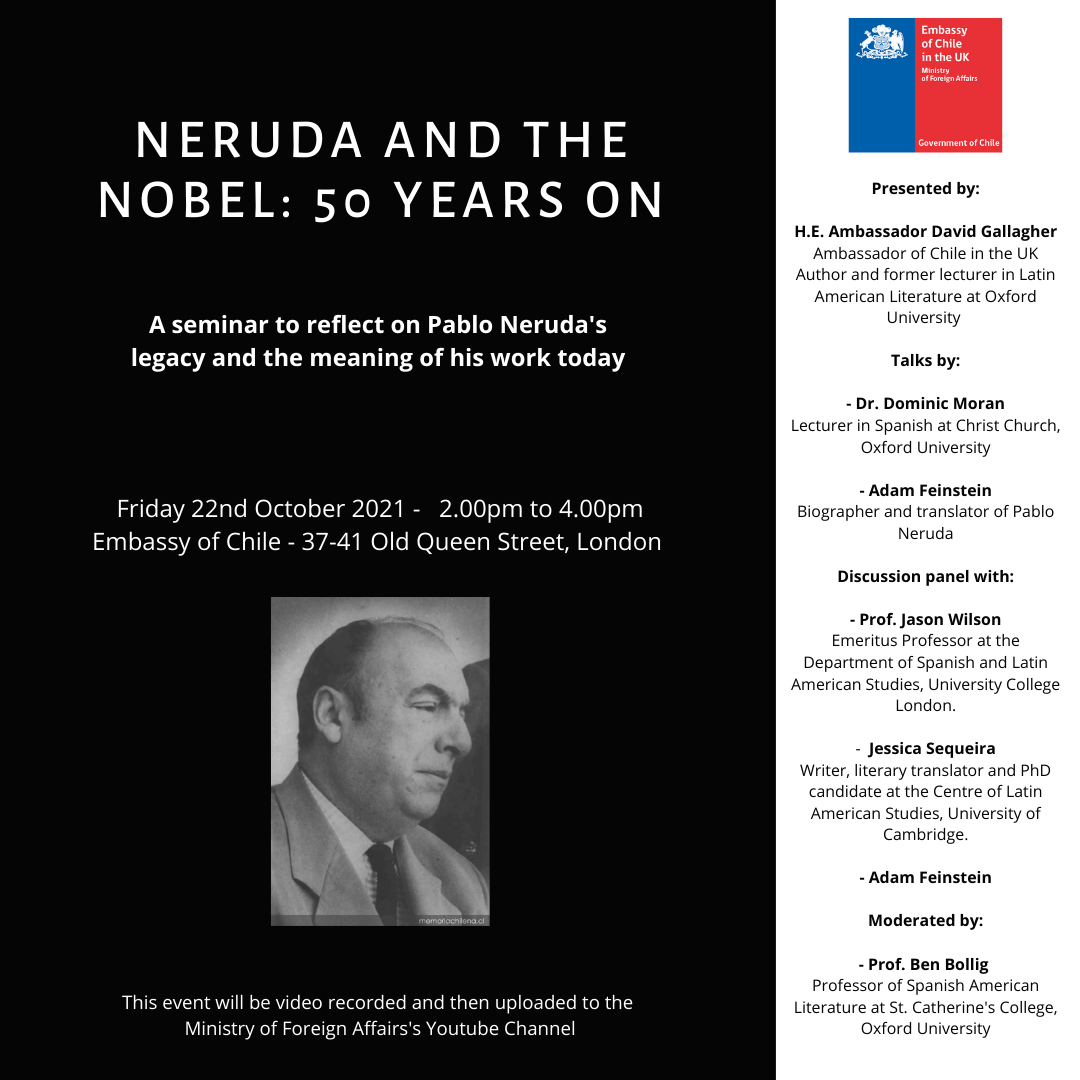 Seminar: Neruda and the Nobel: 50 years on
Fecha/ Date: 22 October
Lugar/ Venue: Embassy of Chile in the UK
Hora/ Time: 2.00pm
Description: The 21st of October of 1971, Pablo Neruda, one of the most iconic Latin American poets of the twentieth century, was awarded the Nobel Prize in Literature "for a poetry that with the action of an elemental force brings alive a continent's destiny and dreams."
50 years on, we'd like to think a bit more about why Neruda was selected for the award, as well as to reflect on how has his value and his merit travelled and evolved to reach a time in which Neruda's posthumous figure might be considered less than pristine due to misdemeanors in his private life.
Join us for a session of talks and a panel discussion with participants who hold an outstanding repository of knowledge on Neruda in the UK.
SEPTIEMBRE /SEPTEMBER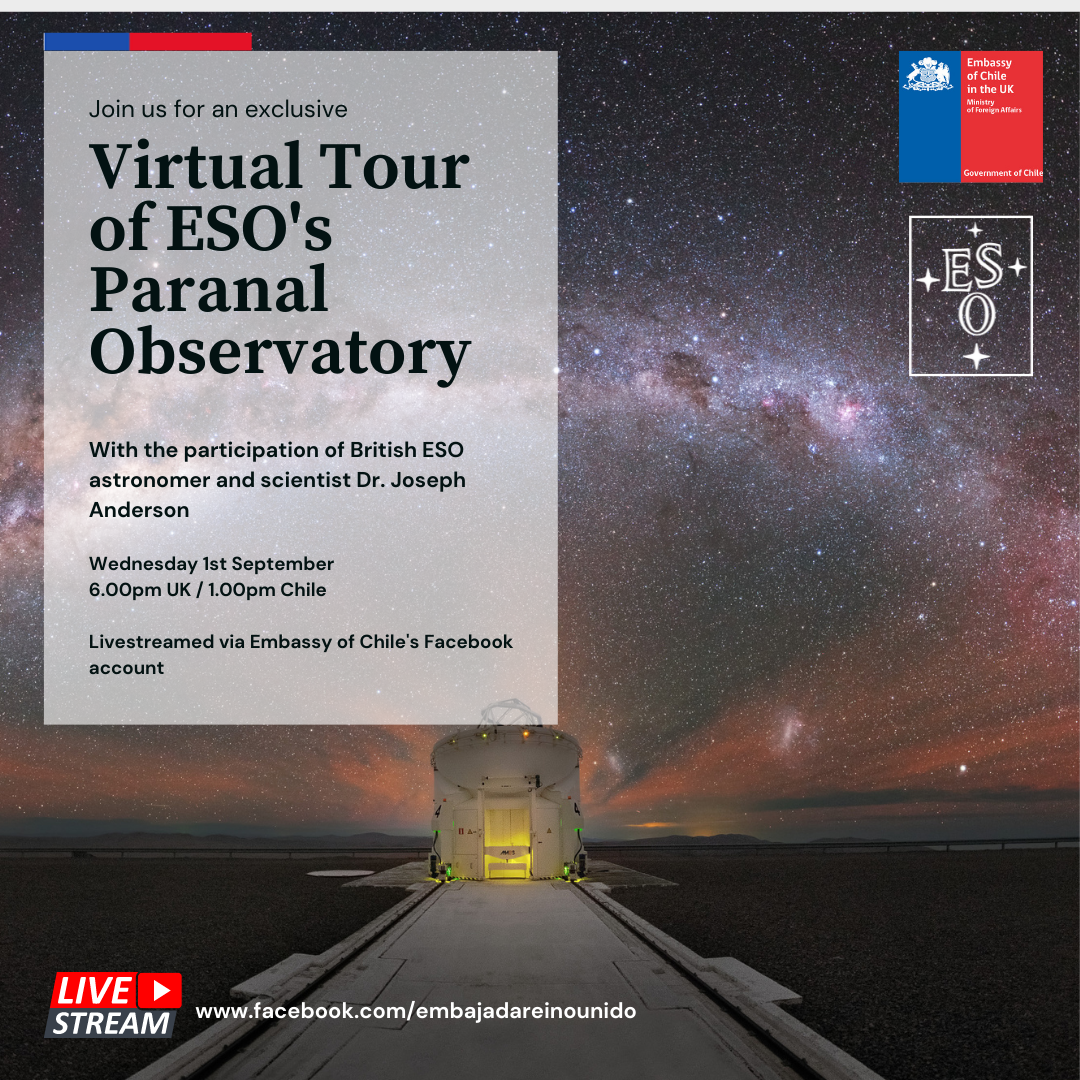 Virtual Tour: ESO's Paranal Observatory
Fecha/ Date: 1st September
Hora/ Time: 6.00pm
Description: Chile is a window to the Universe! Did you know The Atacama Desert has one of the most pristine skies on Earth for observational astronomy?
Join us for an exclusive virtual guided tour of one of European Southern Observatory (ESO)'s observatories in the north of Chile! Come along for a chance to discover Paranal Observatory, including some restricted areas.
During and after the tour, join us for a Q&A session with ESO British astronomer Joseph Anderson.
Streamed through the Embassy of Chile's Facebook Page* and at ESO YouTube channel.
More information / Más información https://www.facebook.com/ESOAstronomy/videos/?ref=page_internal
JUNIO/ JUNE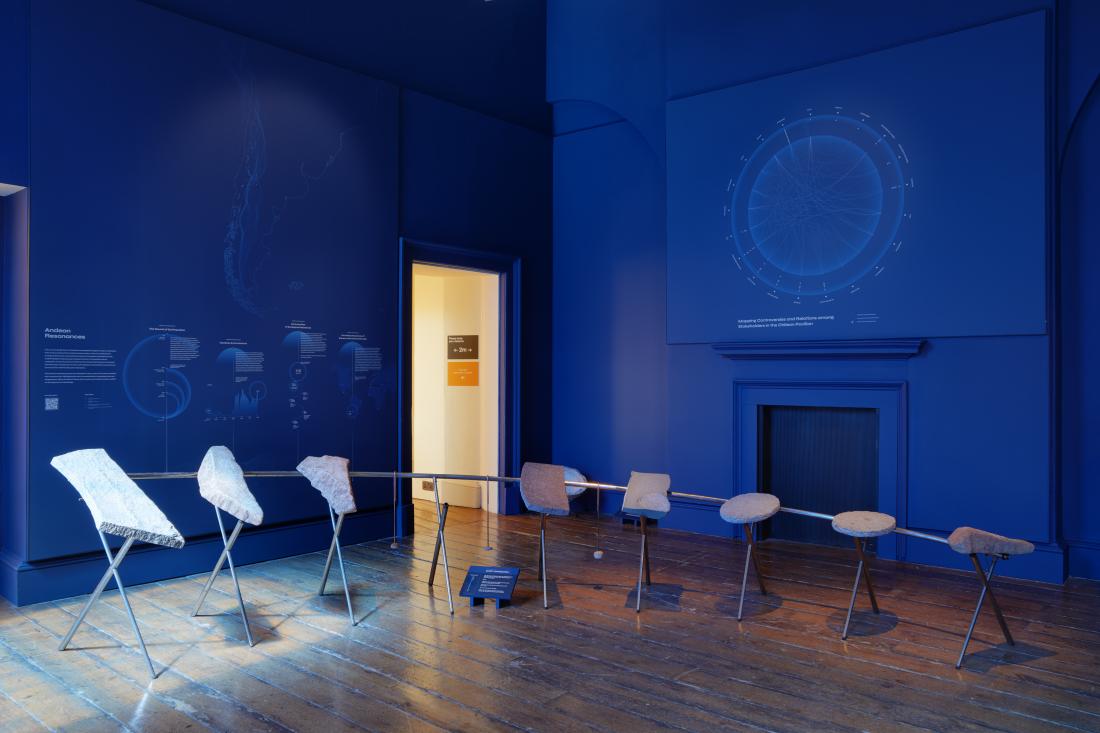 Exhibition: Tectonic Resonances: Chile at London Design Biennale 2020
Fecha/ Date: 1-27 June
Lugar/ Venue: Somerset House (Strand, London WC2R 1LA)
Description: As a response to the concept of "Resonance", this year's topic for the London Design Biennale, a team of Chilean designers prepared a country pavilion that will represent Chile at LDB by addressing the ancestral technologies of sound in rocks, through the installation of seven sounding monoliths which come from different quarries across Chile.
London Design Biennale is one of the most important design windows of the world and gathers the best and most innovative design from around the world. The event will take place during in June, at Somerset House.
The design team proposes the sound of the stones as the gateway to rethink our forms of coexistence on the planet, from those first lithic technologies to today. In an era of increased digital activity, composing from lithic technologies becomes a critical gesture that advocates for design that is conscious of the active power of non–human forces, capable of relearning and proposing a radical ethic of coexistence from the south.
More information / Más información: https://www.londondesignbiennale.com/participant/chile-0
FEBRERO/ FEBRUARY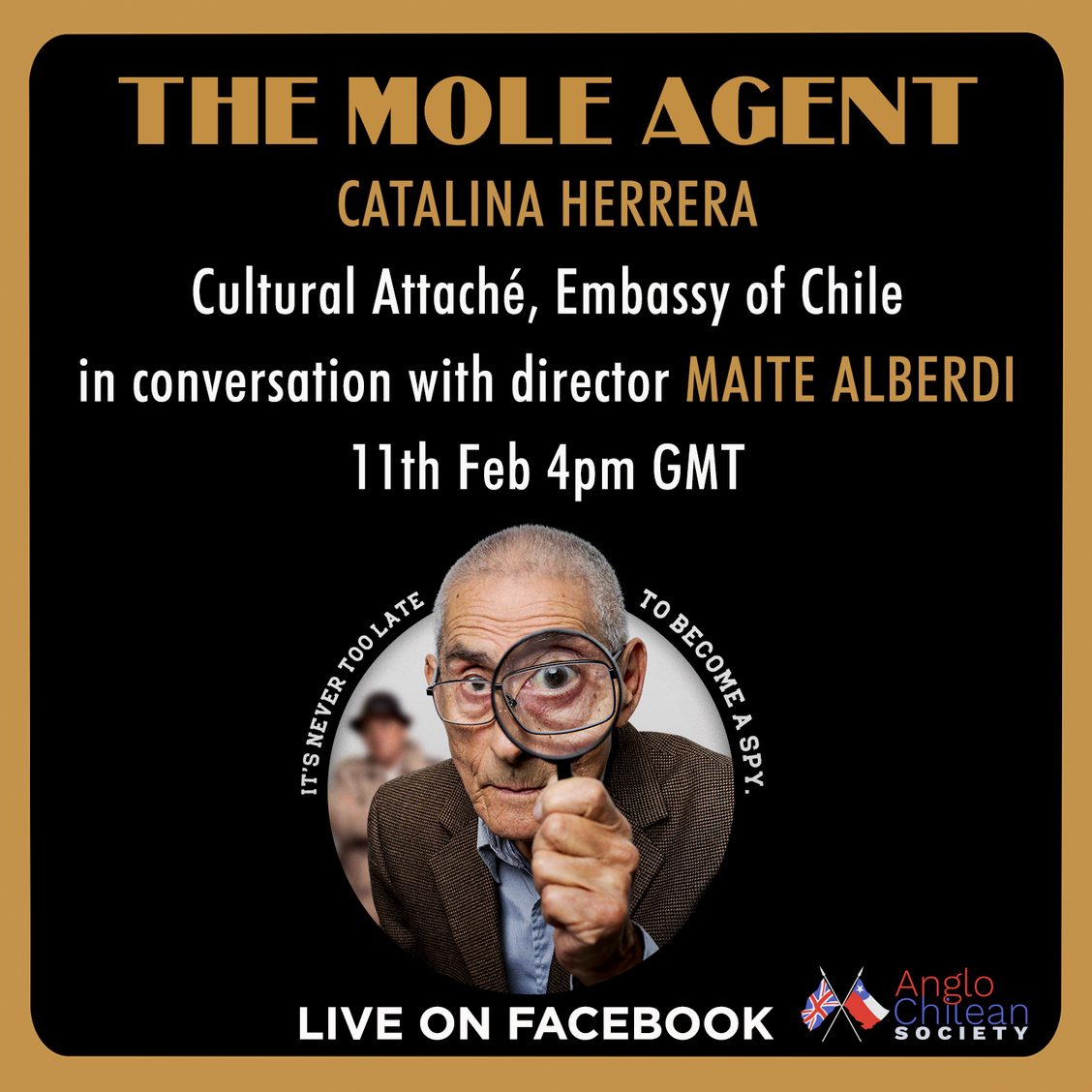 Interview (virtual): Interview with Maite Alberdi, director of 'The Mole Agent' with Adam Feinstein
Fecha/ Date: 11th February
Hora/ Time: 4.00pm
Description: The Anglo Chilean Society is pleased to invite you to an exclusive virtual interview with acclaimed Chilean filmmaker Maite Alberdi, to discuss her latest documentary "The Mole Agent".
"The Mole Agent" shares the journey of a private investigator who hires an elderly man to work as a mole at a retirement home where a client of his suspects the caretakers of elder abuse. Described as "moving, endearing and poignant", this film tackles issues around loneliness and how, as a society, we treat our elderly.
The documentary was selected as the Chilean entry for the Best International Feature Film at the upcoming Academy Awards, and is also nominated for a Goya Award and Spirit Award.
The interview will be conduced by Catalina Herrera, Cultural Attaché at the Embassy of Chile in the UK. Register to join on zoom, otherwise they will be streaming through their Facebook page!
More information / Más información: https://www.anglochileansociety.org/single-post/conversation-with-chilean-filmmaker-maite-alberdi
 FEBRERO/ FEBRUARY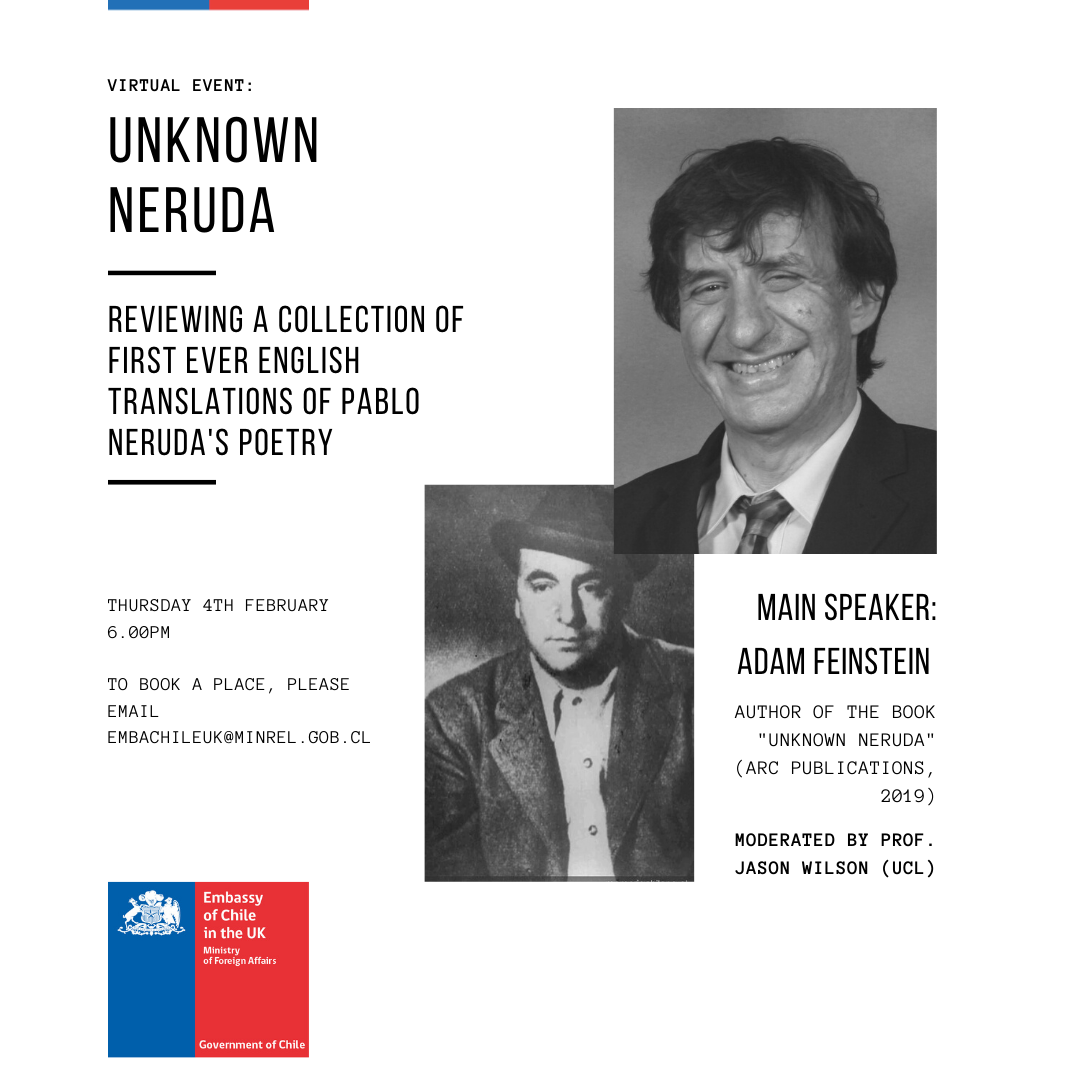 Talk (virtual): 'The Unknown Neruda' with Adam Feinstein
Fecha/ Date: Thursday 4th February
Hora/ Time: 6.00pm
Description: Join us for an evening discussing and reading an exclusive selection of Pablo Neruda's early poetry which has remained without an English translation for decades – until his acclaimed biographer and translator, Adam Feinstein, has filled this extraordinary gap with his book "The Unknown Neruda", published in 2019 by Arc Publications.
Described as "joyous, innocent and anguished", this selection of poems shows us a different aspect to Neruda's character. He will be joined by Prof. Jason Wilson, lecturer at the Department of Spanish and Latin American Studies, University College London.
More information / Más información: https://bit.ly/2XE3oVr