Este artículo tiene más de 3 años
Rachi Master"s of the Imagination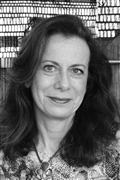 Raquel Yuhaniak's fabric sculptures and multimedia pieces are inspired by her childhood growing up in Santiago, Chile.
Watching mothers and grandmothers in her neighborhood weave and knit, Yuhaniak quickly developed a fascination for textile arts that informs her work to this day. Consciously referencing ancient techniques and traditional weaving practices native to Latin America, Yuhaniak begins her process with basic, natural materials — tissue, flax, hemp, burlap, wood, copper and other fibers — and processes them by hand as much as possible, so that each step in the creation of the piece is completed by her, from start to finish. The artist is constantly experimenting with new materials and says she always looks at art as a choice, not a chore. The joy she takes in the process of creation is evident in each of her emotive
works of art.
A trained architect, it's no wonder that Raquel Yuhaniak's work is so sculptural and well-balanced. She hopes to push the boundaries of material and form, and to inspire others with the joy she takes in her artistic process.
Masters of the Imagination:

The Latin American Fine Art Exhibition

septiembre 16 a octubre 7 2014

Inauguración: Jueves, 18 de septiembre 2014, 6-8 pm