Este artículo tiene más de 3 años
Confronting Inequality: A Critical Dialogue on Educational Reform in Chile and the United States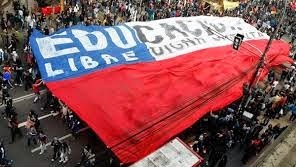 Fernando Atria, Miguel Crispi, and Andrea Gabor
Wednesday, March 4th, 2015, 5:00 p.m.
Center for Latin American and Caribbean Studies at NYU
Location: KJCC Auditorium, 53 Washington Square South, New York, NY, 10012
Following the 2011 massive student demonstrations of discontent with an educational system dating back to the times of dictatorship, in 2014, Chile's government, led by two-term President Michelle Bachelet, presented reform legislation to pursue a more equitable, non-segregational, and cost-free education system in Chile. In this talk, US based-scholars and figures who were key players to these reforms in Chile will discuss these developments and the current political stage.
Fernando Atria is a professor of Law at the Adolfo Ibañez University and at the University of Chile, his work "La Mala Educación" has inspired the educational movement of Chile. Miguel Crispi is a former student leader and a currently advises the Ministry of Education on matters related to the reforms. Andrea Gabor is Bloomberg Professor of Business Journalism at Baruch College, and a well known journalist in the United States.
This event is co-sponsored by the Consulate of Chile.
This event is free and open to the public.
ID required for entry.