Este artículo tiene más de 3 años
CHILEAN "ROOTS AND WINE" EVENT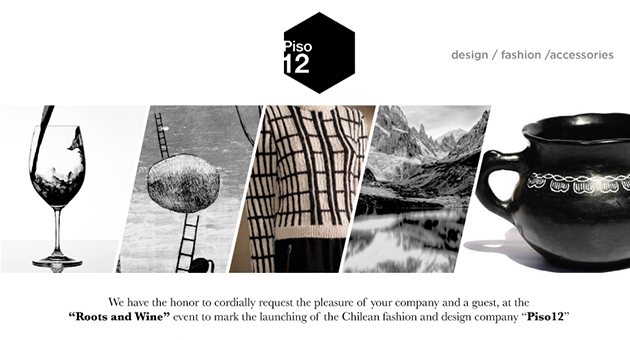 Arts, wine and design present at the US Launching of Chilean design company Piso12
Chilean company Piso12 ("12th Floor") is a platform where different designers, artists and professionals are brought together in one space to develop objects collectively driven by elegance, quality and an aesthetic following current trends.
An essential aspect of Piso12's work is the use of traditional techniques, materials and honor Chile's native peoples' universe incorporating references to their cosmogony and culture. With this in mind, Piso12 has created an in-house collection of Baby Alpaca garments for men and women recently launched in Chile. Together with Mauricio Nuñez , a Chilean haute-couture designer, Piso12 will set up a fine fashion exhibition.
This collection will be presented in a unique event called Wine and Roots, on the 16th of September, along with an exhibition of handcrafts and art specially designed for the exhibit. This event has been possible thanks to the collaboration of the Embassy of Chile in the US.
Chilean design
Piso12's in-house artist, Javiera Quesney works with a technique she calls "micro-embroidery" to create beautiful objects (mostly jewellery), portraying Chile's landscapes, and native flora and fauna.
Chilean wine
Chilean wineries will offer their finest wines, creating a great atmosphere to explore and learn more about the Chilean creative scene.
Chilean art
Matias Pinto D'Aguiar: Painter and sculpturist born in Chile in 1956, studied art in Universidad de Chile, Fine Arts Faculty. He is one of the most well-known and awarded artists in Chile. His work has been exhibited in Italy, Spain, Ecuador, Argentina, among others. He will present 6 pieces of work especially created for this exhibition.
Chilean handcrafts
A collection of "black clay" handcrafts using an acient technique developed in a rural location called "Quinchamali" specially made for Piso12 by the artisans.
Chilean music
Chilean music producer and musician from the indie scene, Sokio, has released two studio albums—Columbia (2009), and Atlántico (2012)—to increasing critical acclaim.