Este artículo tiene más de 3 años
Vicepresidente del Ecuador se reúne con Ministro de RR.EE. de Chile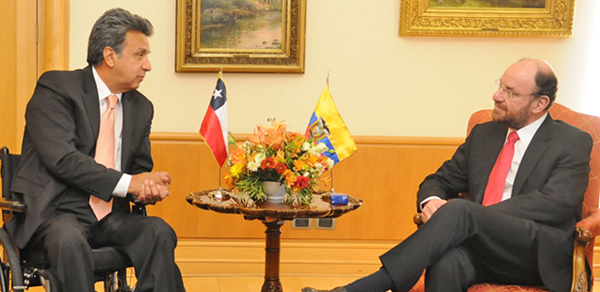 Lenin Moreno visits Chile
Thursday, January 19, 2012
Foreign Minister Alfredo Moreno met this morning with the Vice President of Ecuador, Lenin Moreno, who is on a visit to our country at the invitation of the National Senate to attend several events on the Rights of the Persons with Disabilities in Latin America.
On the occasion, the authorities exchanged views on the situation of the bilateral relationship, placing a special emphasis on migrating flows of nationals from both countries.  They also highlighted the development of scientific research centers in northern Chile. In this regard, Minister Moreno suggested the Ecuadorian Vice-President to visit Paranal Observatory during an upcoming visit to our country.
Likewise, they referred to public policies and private initiatives in the field of disability applied in Chile and Ecuador.